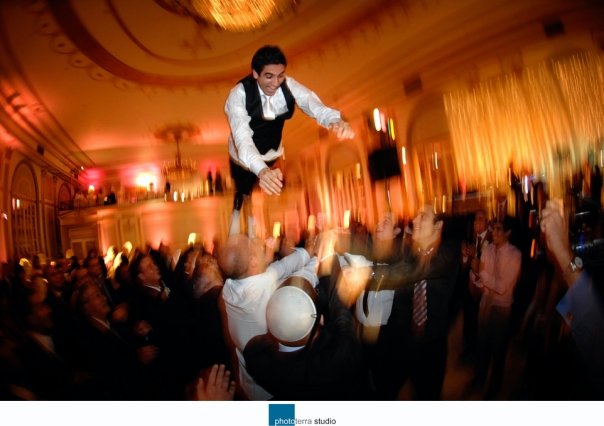 "Look Ma! No hands!" Celebrates Jewish traditions during the Hora at Karine and David's Wedding. The wedding was an absolute party with lots of young people expressing their enthusiasm and energy throughout the entire evening! Groups of people gathered around, holding hands, and lifted the groom in the air!
Technically this image is very challenging, since not only it is hard to get to a best point of view among hundreds of very muscular and
agile men, but it's not easy to get the right balance with exposure and motion blur that accentuates the movement. Moreover, the motion blur in this image is very directional from bottom to the top (vertical) that coincides the the flying trajectory of the groom 🙂
This image was distinguished by the international panel of judges in Las-Vegas. It scored very high. Basically this is the type of images that I'm striving for: substance and uniqueness. There are lots of people that comment on this image and one of the reasons is that it speaks not only to the bride and groom… but also to strangers and people that just stumbled upon it. This is not just an image of a groom who puts a tie on or combs his hair or laughs while speaking on the phone, those kinds or images are fun, but don't tell us the story and can only survive by being in groups of other wedding images. "Look Ma! No Hands!" can exist by itself and doesn't need anything else to tell the story.
"Look Ma! No hands!" will be part of an upcoming exhibition dedicated to Jewish traditions that will be held next year in Montreal, Toronto and probably NY.
One of the Top wedding photographer in the world, Cliff Mautner, once said about this image "I judge a lot of photographers, but this one… I can remember"